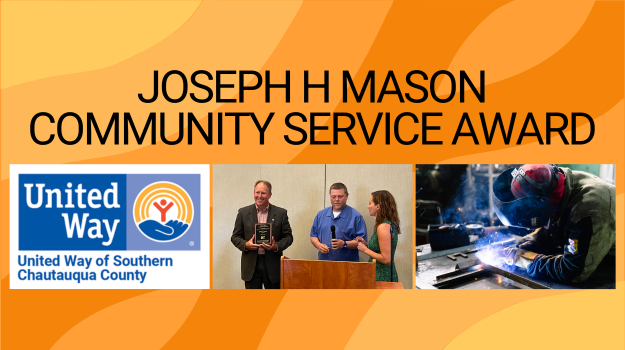 Each year, the United Way of Southern Chautauqua County awards a local union member or staff person whose volunteer service to the community honors the spirit of involvement exhibited by the late Joseph H. Mason.
UWSCC is now accepting nominations for the annual Joseph H. Mason Award – given since 1981. The Salute to Labor Dinner to celebrate this year's award winner will be held on August 9 at the Chautauqua Harbor Hotel.
Joe Mason was the Directing Business Representative of the International Association of Machinists and Aerospace Workers, District 65, representing southwestern New York and northwestern Pennsylvania. Joe's reputation for standing up for the causes of labor, most importantly impacting the day-to-day lives of working men and women in our area, is well known. A long-standing member of the United Way Board of Directors, Joe exemplified labor's commitment to serving our community through his devotion to the United Way campaign.
If you are interested in nominating a union member, active or retired, who has provided outstanding volunteer service in Southern Chautauqua County, visit https://www.uwayscc.org/joseph-h-mason-community-service-award to download a nomination form. Send completed forms by mail to United Way of Southern Chautauqua County at 208 Pine Street, Jamestown, NY 14701. Nominations are due by June 8, 2023.
"We're proud of United Way's history of supporting and recognizing organized labor with this award," says Amy Rohler, UWSCC Executive Director. "Labor unions are a critical partner in United Way's mission to improve the lives of every person and family in our community."
Last year, Jim Cama, a member of the NYSUT Union (New York State Teachers United), was recognized as the 2022 Joseph H. Mason Award winner.
Mr. Cama taught for eleven years in Jamestown (seven years at Lincoln and four years at Ring.) Before coming to Ring School, Mr. Cama taught first grade and PreK for seven years in Denver, Colorado. Since its inception, Jim has been an integral part on the Hands-on Jamestown Neighborhood clean-up events. Jim mobilized members of Jamestown Teachers Association to participate in the clean-up around their homes/schools.
Previous Award winners include Burl Swanson (CWA 1115), Steve Skidmore (CSEA 6300), Resa Rosen-Murray (NYSUT), Steven Nowell (IBEW 106), Loren Smith (NYSUT Panama Faculty Association), Kyle Sholl & Shawn Tibbitts (IAFF 772/Jamestown Fire Dept.), Christopher Maggio (Jamestown Teachers Association), Don Emhardt (IBEW 106), Robert Servis (AFM #134 Kendall Club PBA), Rodney Kolstee (CSEA 807), and Karen Frucella-Olson (UAW 338.)