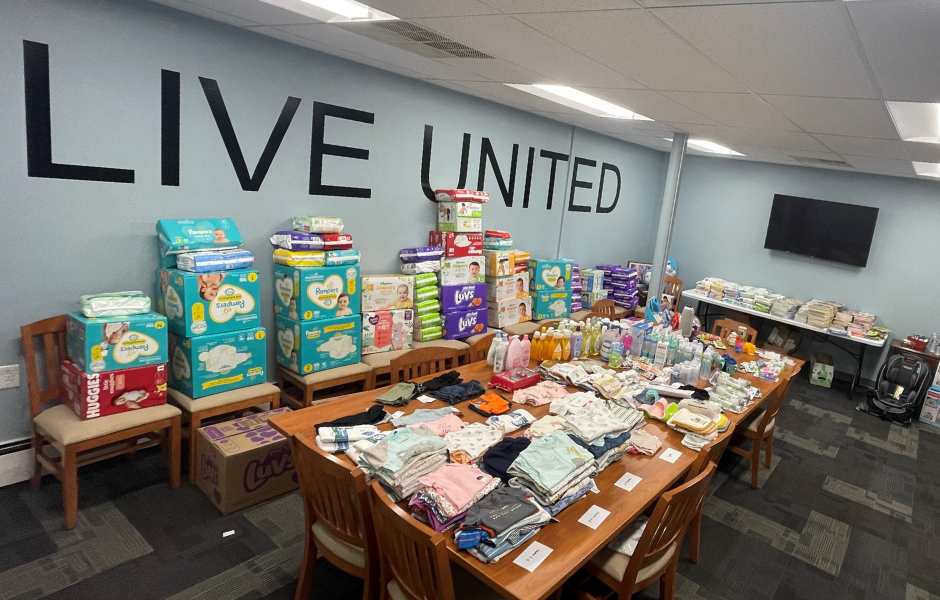 Every year, United Way of Southern Chautauqua County hosts a Community Baby Shower. Why? Because 38% of families with children living in Chautauqua County experience financial hardship, making it difficult to afford the necessary and often expensive items required to care for babies.
To help these families thrive, United Way of Southern Chautauqua County is bringing together local businesses and agencies by collecting essential baby items during its annual Community Baby Shower.
From May 1-June 8, UWAY SCC raises money and collects items for local programs that support at-risk families and babies in this community—many of whom cannot afford necessities like bottles, diapers, strollers, pacifiers, bibs, etc. Local businesses, community groups, church groups and volunteer groups host a baby shower, collect items, and then drop them off to the United Way office so they can be distributed to local agencies.
The 2023 Community Baby Shower sponsors include UPMC Chautauqua, James Prendergast Library, Jamestown Pediatric Associates, Lane Women's Health Group, and Wegmans.
"Last year, we collected over $5,000 worth of necessities for babies and distributed them to 10 agencies that work directly with families with children," says Nicole Gustafson, Community Impact Manager at UWAY SCC. "These donations are an easy way for the community to help babies and families in Chautauqua County at a really pivotal point in their lives."
Community members and groups can help by:
Participating in the community baby shower drive at Wegmans in Jamestown, where items can be bought or dropped off in their collection bins May 20-June 2.
Hosting a baby shower: Create an event or drop off at your business or organization and bring the essentials for families to the United Way office (208 Pine Street, Jamestown between 8am-4pm Monday-Friday) by June 15. · Buy items on the 2023 Community Baby Shower Amazon Wish List. The list includes top needs from community agencies, and purchased items can be directly shipped to the United Way office.
Donate to UWAY SCC on June 8 during Give Big Chq, a 24-hour online giving day for nonprofits in Chautauqua County. 100% of the donations received during the giving day will buy necessities for babies in Chautauqua County. See UWAY SCC's giving page for the day here: https://www.givebigchq.org/organizations/united-way-of-southern-chautau…
For more information, including the Amazon Wish List for the baby shower, visit https://www.uwayscc.org/community-baby-shower, or contact Nicole Gustafson, Community Impact Manager at 716-483-1561 ext. 200 or at ngustafson@uwayscc.org.