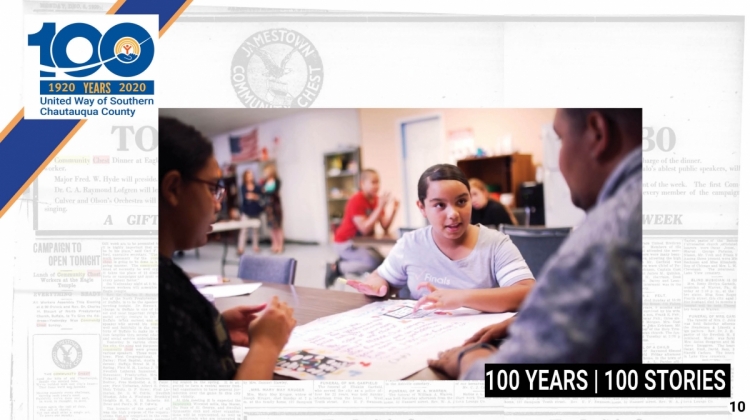 The YMCA as a partner with the United Way of Southern Chautauqua County was able to pilot a special summer learning program called Power Scholars Academy in Summer 2015. We were invited by YUSA to offer an innovative summer learning program that was geared towards low income students affected by the Achievement Gap. This program was a unique merger of morning time academics led by certified teachers with an exciting summer day camp offering enrichment in the afternoon with Friday field trips.  In addition, the program was built to impact learning through use of: Scholastic curriculum; STAR learning assessments (an assessment tool used nationally by schools to measure the real academic learning happening via pre/post learning evaluations); and a research based program design developed by national partner BELL (Building Educated Leaders for Life).  While the National Y provided some partial capital in order to start the program, it was partners including the United Way of Southern Chautauqua County that assisted in making it possible to initially pilot and later sustain this program. This dynamic summer learning program was directly aimed at the eliminating the 2 months of summer learning loss routinely experienced by typical students during summer break (especially low-income students).   
The program was first offered at the Eastside YMCA in summer 2015 as a 3-year pilot which was just 1 of 7 national sites offering Power Scholars Academy Camp. In its' very first year success was beginning with enrolled "scholars" demonstrating on pre/post tests that they were either maintaining or growing academically.  In the years since, STAR evaluations have shown scholars growing on average between 1-2 months in reading and math each summer. As a direct result of the United Way's initial partnership this program has been able to impact 70-80 students each summer and has transitioned from a pilot program to a fully certified program that enters its' 6th year in 2020.  
In addition, what began with just 7 sites nationally has grown to include hundreds of locations.  It was the success seen in places like Jamestown/Eastside YMCA that convinced entities across the country to use Power Scholars Academy as a strategy to address summer learning loss in their community. In addition, the success of Power Scholars Academy has helped inform the YMCA's work with JPS summer learning programs and even after school programming so that even these different models have been influenced by the initial investment in this pilot program.  Many past scholars are now actually in high school and better prepared for the rigors of high school academics and on a better path to academic success thanks to the impact this program had on helping them grow as learners over the last 5 years.  In fact, this year some of our very first scholars are on track to graduate from high school!   
This program continues to be supported by the United Way and low-income students continue to have access to summer learning they might otherwise not receive. While the program is well past the pilot stages at this point, it was partnership with the United Way that helped to make this reduction on the impact on summer learning loss possible. It is the continued partnership with the United Way and their local givers/volunteers that are helping this impact continue today.   
UWAYSCC 100 Years, 100 Stories blog submission by John Barber, Jamestown Area YMCA Teen Director. To learn more about the Eastside YMCA and other YMCA programs visit www.jamestownymca.org